Here at St. Patrick's, we believe that we all have a vocation and a calling by God to build His Kingdom. A kingdom where joy, justice and peace can enjoyed by all. Our mission is shared with The Church to bring this Kingdom to our community in Thornaby. On this page you will find examples of how we have been "Gospel Activists" of bringing the teachings and actions of Jesus to others, where we try to BE CHRIST for others and SEE CHRIST in others. Christ is the centre of everything we do and our curriculum…
Click on the link below to hear our special song about being called to serve one another
We try to relate our curriculum, where possible, to Catholic Social Teaching. Here is a plan of how we try to include some aspects of Catholic Social Teaching in events across the school year and to serve as Jesus taught us to and to do good for other. Click below to see.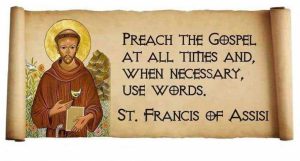 St. Patrick's has had a long tradition with helping others and raising funds for a variety of charities. We are immensely proud of the generosity and humility that our school community. Here is flavour of the charities we have supported in recent times…
Mission Together
Mission Together is the Catholic Church's official children's charity for overseas mission. It is the children's branch of Missio. Each Lent, the children collect and donate their pocket money in their red mission house boxes and return them to school. This is also Bishop Terry's chosen charity.
CAFOD
Walking for water: we carried buckets of water to Christ the King and back as part of our sponsored activities for CAFOD. We were all agreed that it was pretty exhausting and can really empathise with families that do journeys longer than this each day in hotter sun just for clean water! How lucky we are…
Thornaby Foodbank
Down's Syndrome Awareness North-East
Each year we have an awareness day for families who are affected by this disability. We stop and pray for them as well as raise funds for their cause. We celebrate this day on 21st March – being the 21st day of the 3rd month, which is  to signify the uniqueness of the triplication (trisomy) of the 21st chromosome which causes Down's syndrome. This year we raised £317.30 and really enjoyed letting our "socks rocks!"
Macmillan Cancer
Royal British Legion