Welcome to Class 3 – Year 1
In Class 3 we all work really hard and have a great time doing it! Mrs Simms and Mrs Wilson are very excited about the year ahead with our class of amazing Year 1 children.
Our school day begins at 8:50 – 9:00am (enter through KS1 door) and ends at 3:05 – 3:15 (exit class 2 door).
Our class is a busy, hard-working place which challenges our children in fun and creative ways. Year 1 children will be working towards their Phonics screening assessment in the summer. With lots of practise throughout the year, the children will be well-prepared for this. To help your child gain more confidence with their reading and develop a love of books, we encourage the children to read every night. Teachers are not able to comment in reading records at this time, but we ask the children to show us their records so that we can read all of your wonderful comments about reading at home.
PE
We have PE on Fridays, and we ask that kits are brought into school on this day only. Our PE kit is a white t-shirt, black shorts and black plimsolls. All children should have a water bottle in school which needs to be taken home, washed and filled every night.
Wonderful things happen in Class 3…
We are children of God…
We celebrate and pray each day. We know that God is always with us and our families and we have talked about how we want to shine like Jesus this year.
We plan our own prayers to say when we spend time with God.
The work in our RE books is beautiful too! We have been learning about The Creation Story and how God made our wonderful world and then, on the Sunday, had a rest!. We have written our own Psalms about how God loves us so much that he created this wonderful world for us.
Here is our RE newsletter including some important dates in our calendar, take a look!
We are safe…
We thought about how to keep safe on the internet by keeping information private and speaking to adults if we are unsure or unhappy.
We are artists…
We hope to go on an Autumn walk to look at nature in our area. We want to collect leaves, conkers, acorns and tree rubbings to create our own art work.
We are writers…
We are working hard to form all our letters correctly, sitting each letter on the line. We are now creating our own simple sentences, thinking carefully about where our capital letters and full stops need to go. We have been using interesting adjectives to make our writing more exciting.
We have been reading books about Traditional Tales, and have produced some amazing writing about Little Red Riding Hood.
We are reading poetry about autumn. We loved this so much and decided to write some of our own poetry! Take a look…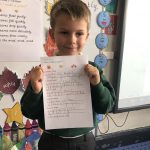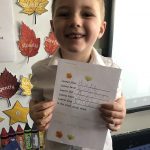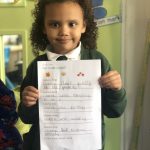 We are mathematicians…
We are learning lots of new things in maths. We are getting really good at adding and taking away in different ways using lots of different apparatus to help us. We have been working hard learn our Number bonds to 10.
We are scientists…
We are learning about animals including humans. We can talk about the differences between a baby, child, teenager, adult and the elderly. We are beginning to think about what living things need to survive.
We are musicians…
We enjoy singing songs, especially our favourite nursery rhymes. We have also been learning how to keep the beat in songs and will soon be adding instruments to our performances.
We are athletes…
We have been learning lots of new things in our PE lessons. We have learnt how to throw a basket ball correctly and how to throw and catch. This is quite tricky when you have small hands!
We can speak different languages…
We have been learning how to say 'hello' when answering our register. We are going to be learning how to say 'my name is' and count to ten in French.
Keep checking our school twitter page for more updates.