A warm welcome to Class 12 – Year 6!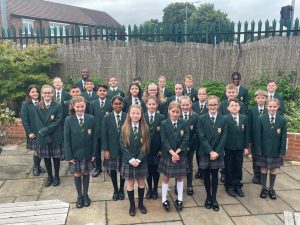 We have an exciting and new curriculum in Year 6 with daily Mathematics and English lessons and interesting topics to make our curriculum exciting. Our aim in Year 6 is to continue to make the curriculum fun, practical and relevant for every child whilst ensuring they leave St. Patrick's well-equipped for secondary school. We will ensure your child is fully prepared whilst continuing to make learning engaging and relevant. On a personal and social level, we encourage pupils to start taking more responsibility for their own learning and to grow in confidence, independence, problem solving and personal organisation. We encourage them to become successful learners, confident individuals and responsible citizens – in partnership with you as parents. We endeavour to ensure that the children have a positive and successful last year at St.Patrick's to prepare them for Secondary School. If we can be of any assistance, please do not hesitate to contact us.
                               Mrs Ryan and Mrs Wilson
Jesus, guard me through this day In all I do and all I say. We give you our school. We give you all the teachers and staff who work here, We give you all the children who study here. We pray our school would be place of great discovery, adventure and creativity. Amen.
Curriculum Newsletters: 
Class-11-and-12-Autumn-Newsletter
Class 11 and 12 Spring Newsletter
Class 11 and 12 Summer Newsletter
Come and See letter to parents Spring
Come and See letter to parents Summer
Twitter
Check our school twitter page for updates on things going on in Class 12!