A warm welcome to Class 12!
We have an exciting and new curriculum in Year 6 with daily Mathematics and English lessons and interesting topics to make our curriculum exciting. Our aim in Year 6 is to continue to make the curriculum fun, practical and relevant for every child. The year will end in statutory tests in reading, writing, grammar and mathematics. We will ensure your child is fully prepared whilst continuing to make learning engaging and relevant. On a personal and social level, we encourage pupils to start taking more responsibility for their own learning and to grow in confidence, independence, problem solving and personal organisation. We encourage them to become successful learners, confident individuals and responsible citizens – in partnership with you as parents. We endeavour to ensure that the children have a positive and successful last year at St.Patrick's to prepare them for Secondary School. If we can be of any assistance, please do not hesitate to contact us.
Mrs Ryan and Mrs Duffie

Welcome to Year 6
Year 6 – looking very smart and happy to be back at school on their first day in class 12.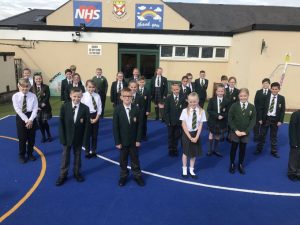 Posters-
Some fantastic propaganda posters have been created in class 12 for 'The Civil Rights Movement'. Well done!
Amazing art-
Incredible Advent artwork in RE today based on scripture.
Helping our community-
We have supported Little Sprouts Health and Well-being in making Christmas baubles to be distributed to the loneliest in our local community.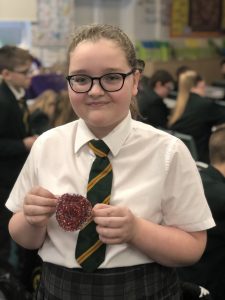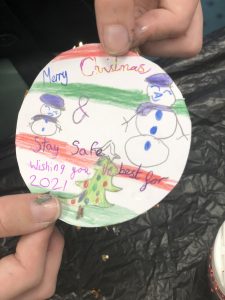 Morrison shelters-
Star of the week for fantastic construction skills and techniques goes to this year 6 girl! Incredible!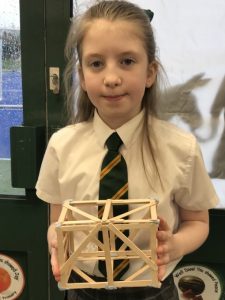 Class 12 have completed constructing their Morrison shelters. Some. Of them have withstood the test of time…some of them haven't!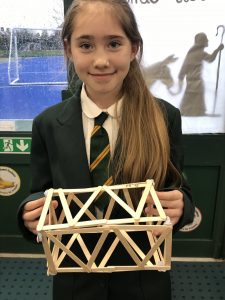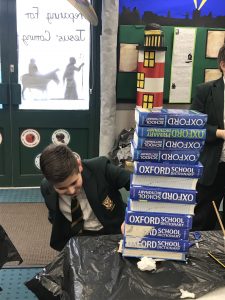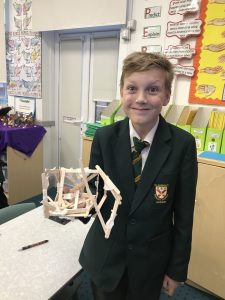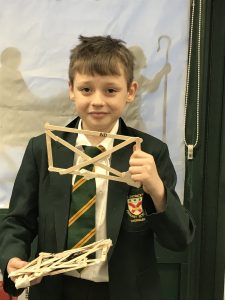 Hopes for the future-
Some wonderful poems written for our Hopes and Future.
Reindeer dash-
Class 12 enjoyed their reindeer run this morning. Santa enjoyed it too!
D&T-
Designing bomb shelters in class 12 is quite challenging. We're enjoying using the hacksaw!
The Annunciation-
Preparing for advent-
Feeling festive in class 12.
Taking care of our wildlife-
Class  12 are loving the hedgehog house which our fantastic caretaker made!
We just need 'Spike' to find it now!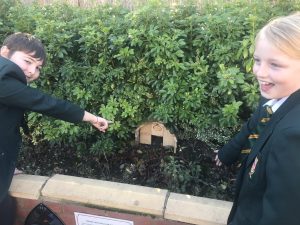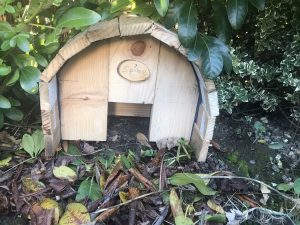 Peer assessment-
Sometimes we need our friends to help us assess our work.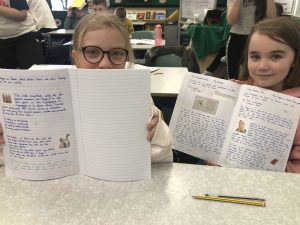 Weekly Liturgy-
Class 12 chaplains led a lovely liturgy today- reflecting on The Beatitudes and the humility of St. Martin of Porres.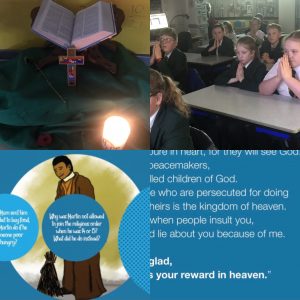 Graffiti Art-
Class 12 have enjoyed art week this week.
Class 12 are now ready to paint their Graffiti street art designs.
Responding to God's invitation-
Class 12 gathered today to reflect on what God is inviting us to do today.
Thinking of others-
This year 6 girl has been thinking about class 12's collective
worship on Friday: reflecting on those who are homeless.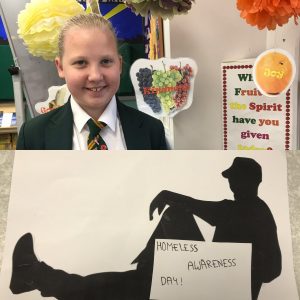 Manga Art-
This  year 6 girl has been finding how to draw Manga characters from her reading book. WOW!
History of our area –
Class 12 enjoyed their WW2 tour of Thornaby this morning. 'Lest we forget'.
We gave a wave to Mrs McCabe and Mrs Bell on our travels!
Practising our French! –
Quelle heure eat-il dans classe 12?
IL est sept heures.
Il est sept heures et demie.
World Poetry Day –
Class 12 created some lovely poetry on World Poetry Day in RE: showing how they recognize others.
Exciting Science experiments –
Class 12 have been learning about the components of blood and their functions.
We have very talented children here at St Patrick's! – 
This young Year 6 boy has received a gold medal for coming first in a dance competition. He also was presented with a trophy for 'Most Promising Boy'! Incredible!
Well done to this year 6 boy for his commitment and dedication to football – he received winner of The Tournament! What a fantastic achievement!
Exercising the heart-
Class 12 enjoyed investigating the effect of exercise on their pulse rate today in science.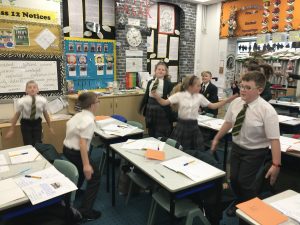 Directions-
The children have been learning how to say directions in French today… a gauche, a droite, tout droite.
My beating heart-
Class 12 have been making their own working model of a beating heart.
Space week 4th to 10th October-
Children have been designing Space Suits to commemorate the launch of the first human-made satellite (Sputnik 1) on October 4th 1957.
Prayers of dedication-
Class 12 wrote some lovely prayers this week giving thanks for their family and friends.
Celebration of European Languages Day 
Class 11 and Class 12 children have been busy today serving their community at St. Patrick's Continental Cafe.Parents and grandparents were invited to sample some continental pastries, such as croissants pains au chocolate, Belgian waffles, Romanian pastries, hot chocolate and much more. They greeted and waited on customers, took orders, cleaned up, washed pots and enjoyed a well-earned orange juice and a pastry.  They also learnt how to say some Romanian words with help from a year 6 girl who taught the children some basic conversational words and how to say colours and numbers to 10 in Romanian. Multumesc!
Eden Camp
Year 6 learnt so much about WW2 – the history topic- when they visited Eden Camp. They experienced a 1940's puppet show, looked at primary sources  and had lots of fun while they learnt lots about the cause and effects of the war. Thank you so much to our parents and governors! We are now becoming experts on WWII!
World War II
What brilliant children we have in Year 6. This young girl wanted to get our history topic off to a good start by making this at home. A creative and thoughtful way to show that we will not forget those who gave their lives for others.
Science Investigation – The Heart
We had fun today learning how oxygenated blood is pumped around the body as the heart contracts. We used a model to demonstrate and help us to remember.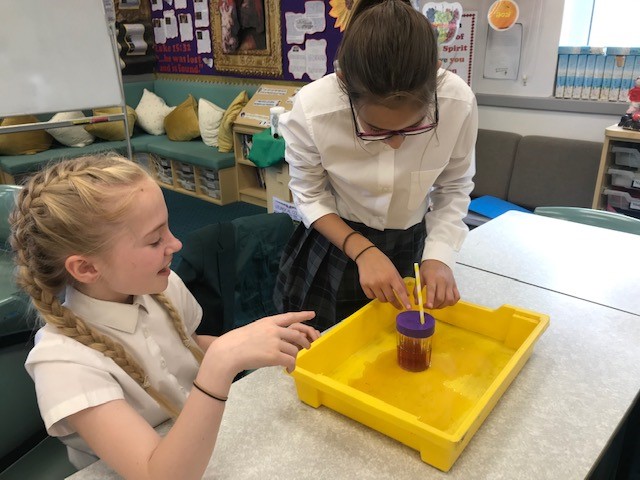 St. Patrick's Mass with Father Pat
Year 6 celebrated mass with Father Pat this morning. We also said goodbye to this young boy as it is his last day at St. Patrick's Primary School.  Good luck to a lovely family and please keep in touch.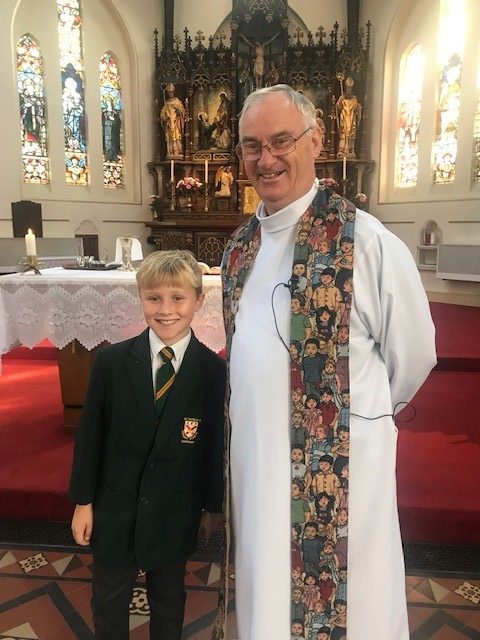 Irish Dancing Championships 
This dedicated and talented year 6 girl came first in an Irish dancing competition. She can now compete to enter the Irish Dancing International Championships! Congratulations!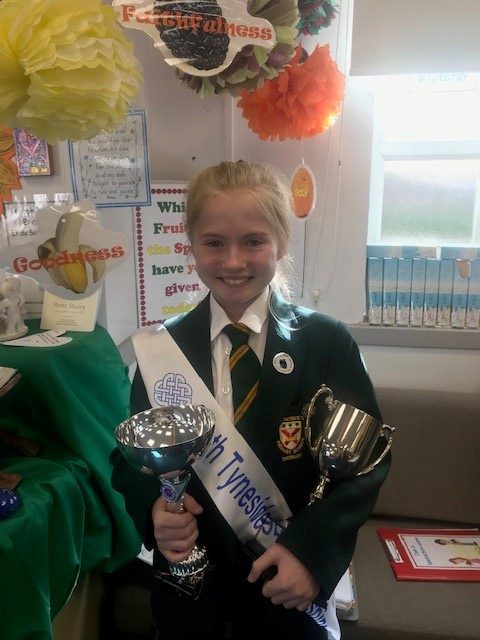 The Asrai
Speaking and listening skills were practised today as we performed a role-play in English of the myth – The Asrai. There are some budding actors and actresses in Year 6!
Crucial Crew
We learnt lots of vital information today about how to keep ourselves safe whilst having great fun. Serious messages about personal safety and dealing with emergencies were learnt. Thank you to Stockton Police, SBC Road Safety Team, Cleveland Fire Brigade, Northern Gas Networks, Northern Electric, and The Anti- Social Behaviour Team.
2018 /2019
Called To Serve
During Advent, class 12 planned to do something to give back to their community. They decided to plan and prepare a talent show and perform it at Meadowfield House. They also baked cakes for the residents. They thoroughly enjoyed giving up their own time in order to bring joy (and cake) to others.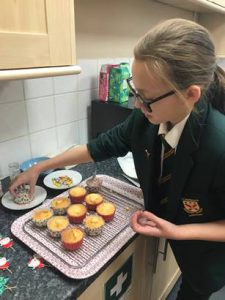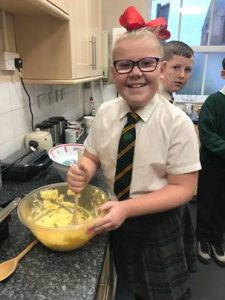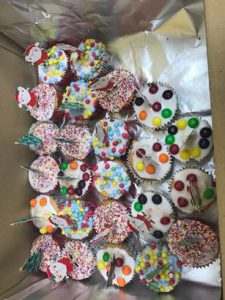 Meadowfield House – Called to Serve
It was a very cold, wet and windy walk down Thorntree Road – but it was worth it!
The residents were very excited to see  us! We performed comedy sketches, we sang, we choreographed a gymnastics routine and told jokes – then all ate home-made cakes which we had baked! The planning, practising and preparation was definitely worth it!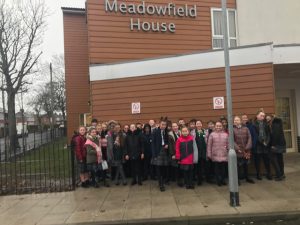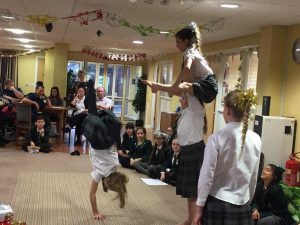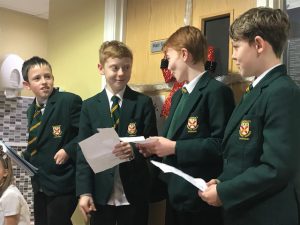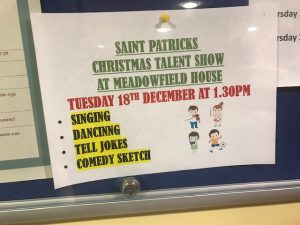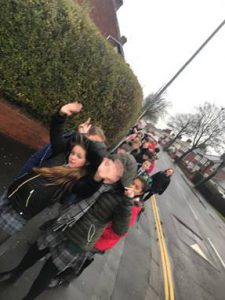 Advent Reflections
Each week during Advent,  the children and class chaplains plan and prepare a collective worship and reflect on something which is meaningful to us. This week the children wanted to focus on 'Hope' and we remembered those who are no longer with us. We prayed for members of our families and remember our friend, lovely Mrs Staley.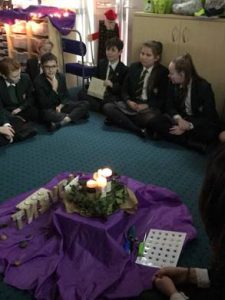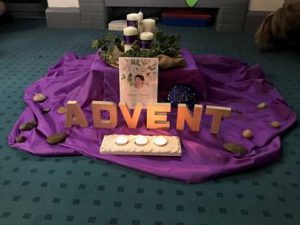 Happy Birthday Boys! Bon Anniversaire!
Thank you for the amazing cake – it was delicious!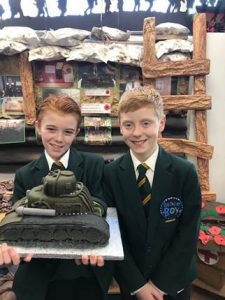 Papier Mache Endangered Species
Class 12 carried out some research into which animals are endangered. They designed models using paper, PVA glue, paste, perseverance and patience. By observing frontal and profile images, they were able to create 3D models which they can't wait to put on display!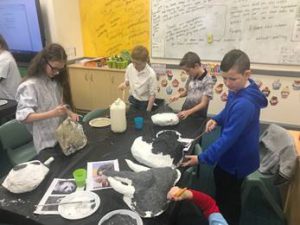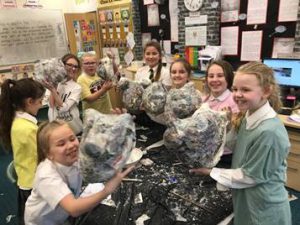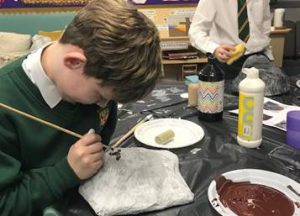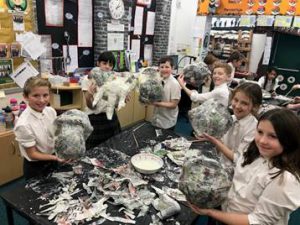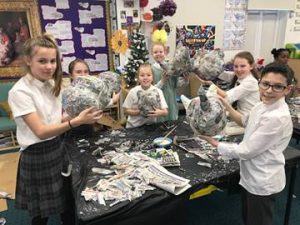 Wow!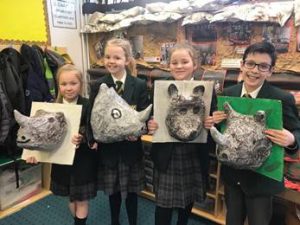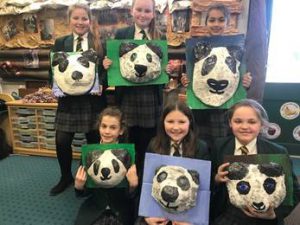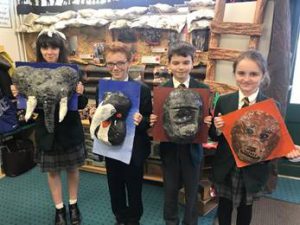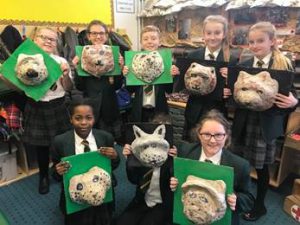 RE – Advent Art Work
Children looked at scripture and reflected on the meaning of the Gospel in order to create these images using pastels. They used symbolism and could explain what the symbols represent and how they linked to Advent.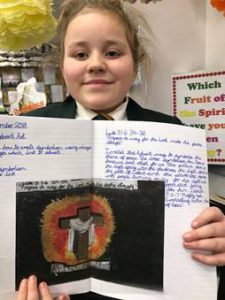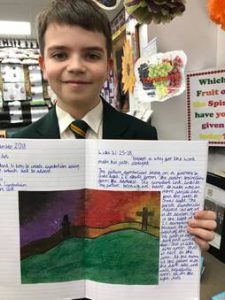 York Castle Museum
The children had an incredible day at York Castle Museum. They experienced what life was like in the trenches, whilst having the opportunity to look at secondary and primary sources such as medals, gas masks, uniform and many, many more …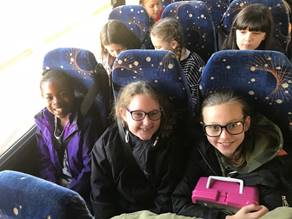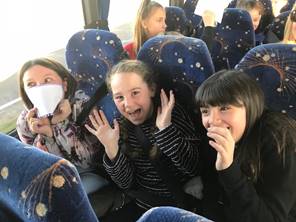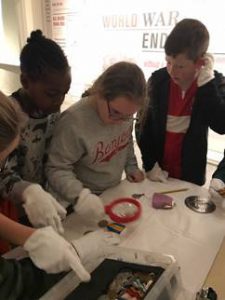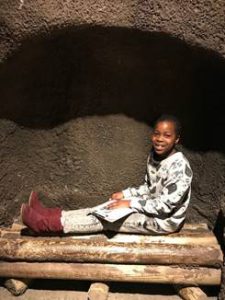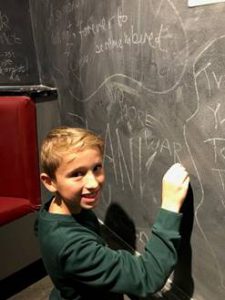 They weren't too enthusiastic about the Victorian classroom!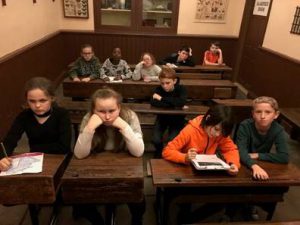 York Dungeons
A spine-chilling time was had by all in the York Dungeons – will we get out alive?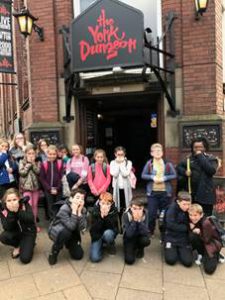 Poetry Writing – Endangered Species
Children entered a World Wildlife Fund competition about animals which are at risk of becoming extinct. They were very passionate about trying to persuade people to do what they can to protect them and to try and stop habitat loss, deforestation, climate change and river pollution.  St. Patrick's certainly have talented, creative children!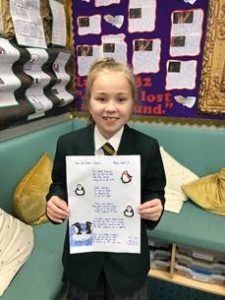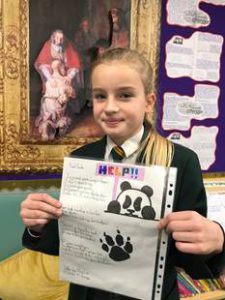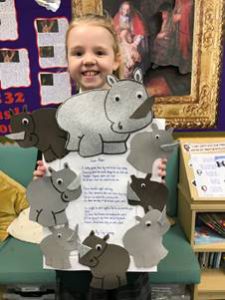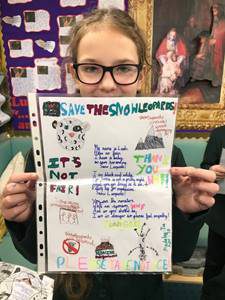 The Centenary of World War 1
Children showed how they have not forgotten those who gave their lives by writing poetry, designing their own memorial gardens and attending the memorial service.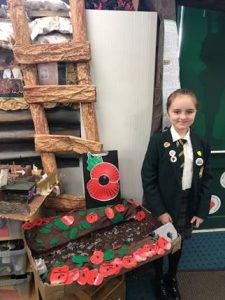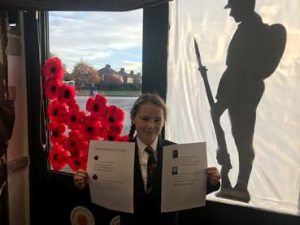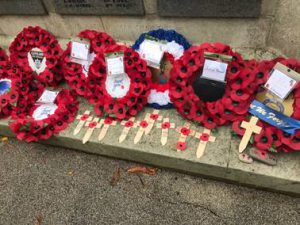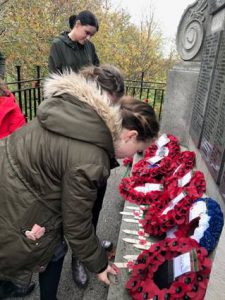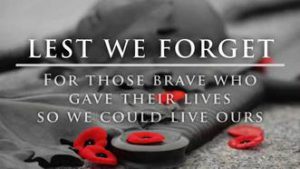 Celebration of European Languages Day 2019
Year 6 children are looking forward to St. Patrick's Celebration of European Languages Day 2018. We have been creating our very own placemats to use in the Continental Café.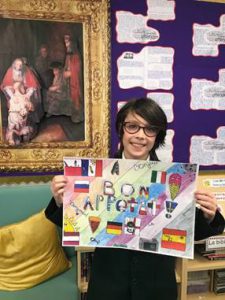 Year 6 children worked hard at St. Patrick's Continental Café cleaning, washing-up, greeting, waiting on their customers… as well as speaking French!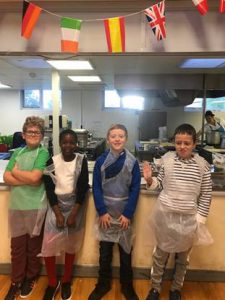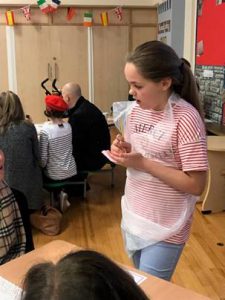 They took customers orders from croissants, pains au chocolat, brioche rolls, Belgian waffles, jus d'orange, thé, café, et chocolat chaud! Parents , grandparents, aunties uncles, brothers and sisters were invited to spend some time experiencing a taste of Europe, with their family. After their hard work, year 6 then took a break to enjoy the delicious delicacies … they deserved it! Fantastique les enfants!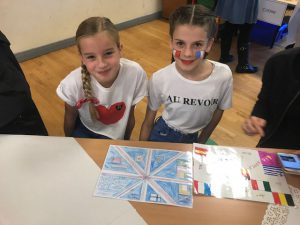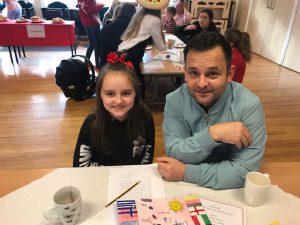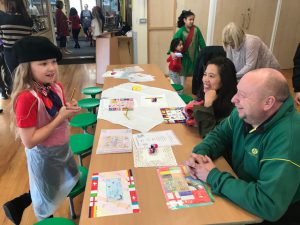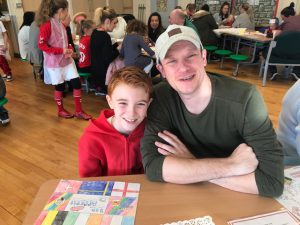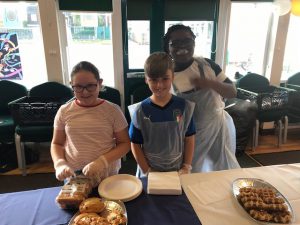 In RE we have learnt how we know that God is a 'Loving God'.
We looked at Rembrandt's painting of the Prodigal Son and understand what unconditional love is.
Look at our writing.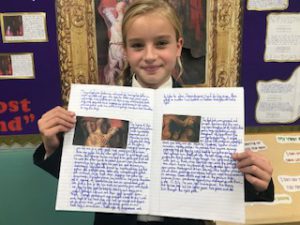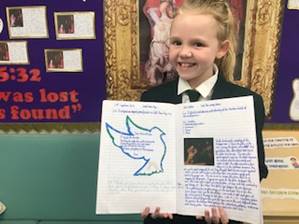 World War One
Some children have made trenches to display in class.  They have been very creative… pipe cleaners, shoe boxes, lolly sticks… you name it – they've used it!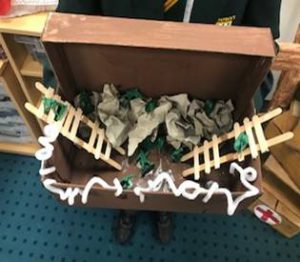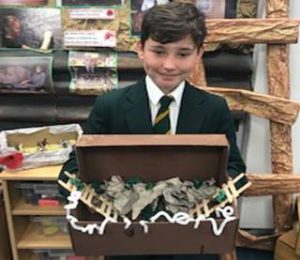 And there's more…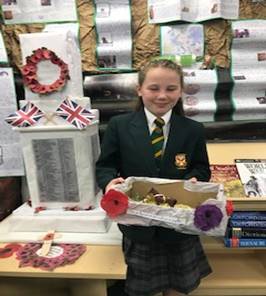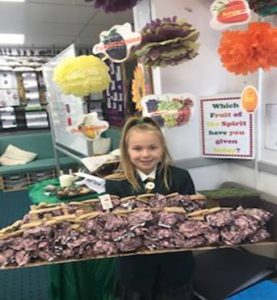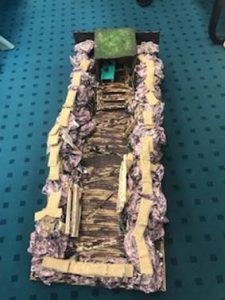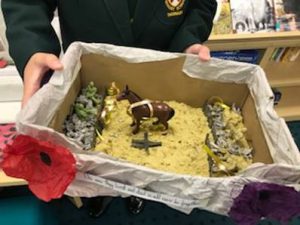 Selling eggs – freshly laid today! Only £1 for half a dozen! Everyone's eggcited – such a bargain!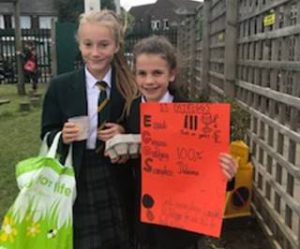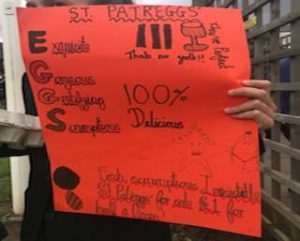 Children led a beautiful liturgy honouring Our Lady in the month of October.
We reflected on the qualities which our mother's bring to us and mothers who are no longer with us.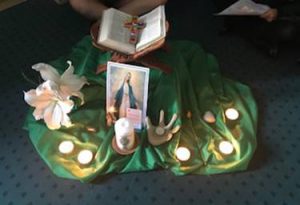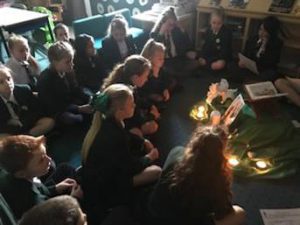 Candle Prayer
In our RE books, we have dedicated the work which we do to someone we love.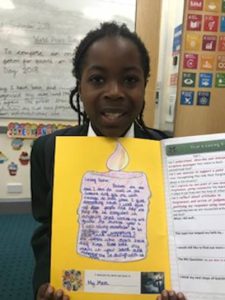 The Feast Day of St. Francis of Assisi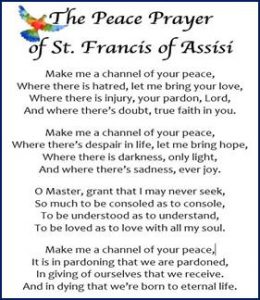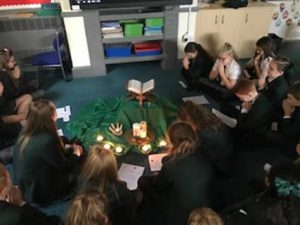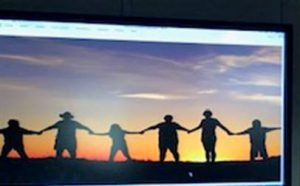 Children led a beautiful collective worship, remembering the importance of peace and reflecting on the image. God's light shines through bringing goodness, even when we are in the darkness and have turned away from God's light. We feel stronger when we are united and support each other. Peace is contagious.
World Peace Day
Children reflected on those who are less fortunate than us and how we can help those in need.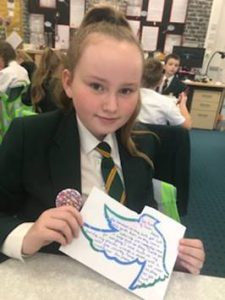 Class 12 Stay and Pray
Parents and family were invited to a liturgy which was led by the children.
Christ is our Light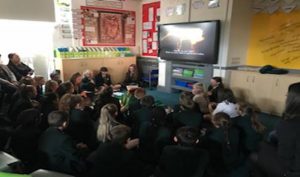 Song Writing with Joe and Helen Hammill from Cattle and Cane
We had an amazing morning with Joe and Helen song writing about Forgiveness.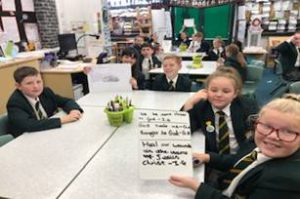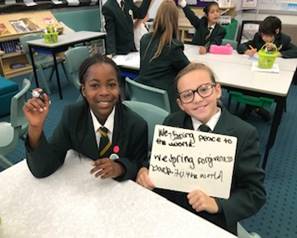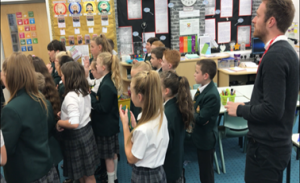 The Asrai – Creative Writing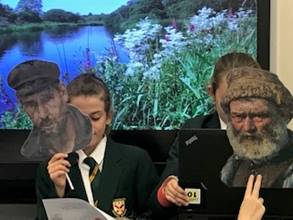 Children performed a role play to help them when writing speech. They produced narratives creating atmosphere and portraying characters.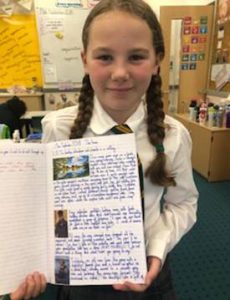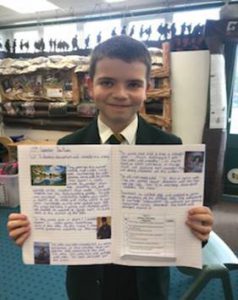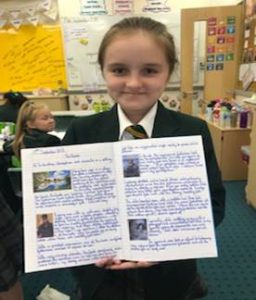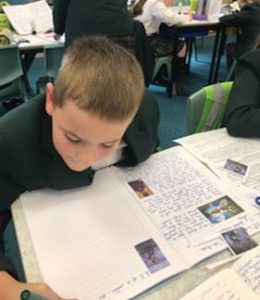 Phase Liturgy
Reflecting on why we are special and how we should use our talents as Jesus would want us to.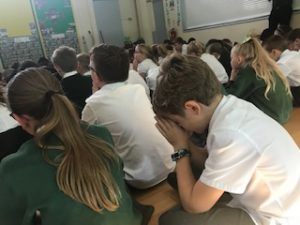 Celebrating our Talents
These girls have demonstrated 'Joy' and 'Patience' by using their talents. Amazing medals – what great achievements!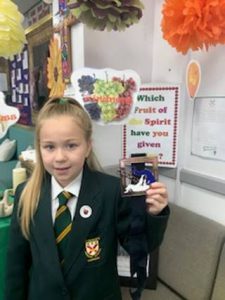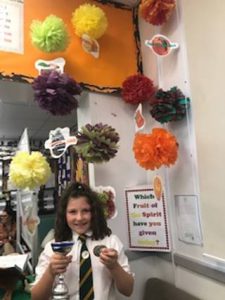 Crucial Crew
Year 6 children were given crucial advice on how to stay safe.  The police, fire brigade, Northern Electric and RNLI advised them what they should do in an emergency and how to prevent accidents.