Hello and a warm welcome to you from Class 11.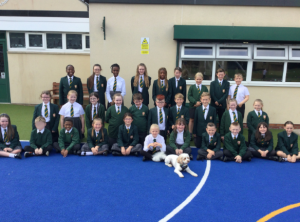 Our class teacher is Mr Barber and our teaching assistants are Mrs Horner and Mrs Barber. They have already said that they have been very impressed with us and that they are really looking forward to helping us to learn this year. We are very excited about the year ahead: it will be challenging; a lot of fun and hopefully a year that we will never forget – particularly since for some of us this will be our last year at St Patrick's!
If you want to find out what we will be learning about each term you will find really useful information on our curriculum newsletters. They will be on our school website too. If you ever have any questions about what is going on at school or in Class 11 simply speak to Mr Barber, Mrs Horner or Mrs Barber – they would love to be able to help answer your questions.
God Bless. From all of us in Class 11!
We work together,
We play together,
We laugh together,
We pray together,
We help each other,
To be our best,
We are God's children,
We are blessed!
We welcome back our children as you begin your year in Class 11!
You all look very smart..
Curriculum Newsletters:
Class 11 and 12 Autumn Newsletter
Class 11 and 12 Spring Newsletter
Class 11 and 12 Summer Newsletter
Come and See letter to parents Spring
Come and See letter to parents Summer
Twitter
Check our school twitter page for updates on things going on in Class 11!