Class 10
Welcome to class 10. We are a class of Year 5 children. Our teacher is Miss Dowson and our teaching assistant is Miss Hendry.
In our class we love learning new things! We like to impress our teachers by trying our best and by being independent learners. Our teachers encourage us to grow in confidence by completing tasks independently and take more responsibility for our work.
We have lots of wonderful things planned this year so please keep checking our website and newsletters to find out more.
God Bless.
Thank you for visiting our Class page!
Autumn Newsletter
R.E Autumn Newsletter
We are songwriters
Former pupil and Cattle and Cane member Joseph Hammill, came into class to help us to create a welcome song for our new starters to school.
The class created lyrics and performed their song based on the life of James Cook, which they have been studying about in history.
Me, I'm from Middlesbrough, me.
I joined the navy when I was 18.
I was full of ambition
I had a mission
I dreamed of ruling the sea
Did you know I'm the son of Grace Pace?
Thornaby born and raised.
We moved to Great Ayton
For my education
Me, I'm from Middlesbrough, me.
I'm Captain Cook
And I'm the King of the Sea
I create maps for the whole world to see
I follow the stars
To travel so far
I love cartography!
Did you know I'm one of the greats?
We changed the world,
me and my mates.
We sailed the Endeavour
Throughout stormy weather
Me, I'm from Middlesbrough, me.
We set sail
Our adventure begun
Looking for Venus to pass by the sun
We arrived at Tahiti,
Where the locals did meet me.
Shocked and surprised by me!
I took a route
To discover new land
Such a relief when my feet touched the sand.
It's been weeks, it's been months
Since I had a good lunch
I want a parmo please!
I sailed my boat
Along Australia's coast
I claimed the land in the name of my home
We stopped in Hawaii
But I don't know why ee
And that was the end of me!
Parliament week
As part of Parliament Week Class 10 have discussed how the process of decision making in the United Kingdom has been through a Parliament for some time. We focused on the British value of the Rule of Law. Children conducted a diamond nine activity ranking in their opinions the most important laws in our societies today. The children found out about the roles of the House of Lords and House of Commons play in changing or bringing in new laws. The children then debated their choices of the laws which needed to be changed or reviewed.
Amazing African Art
Class 10 loved designing African tribal artwork before moving on to creating their own masks.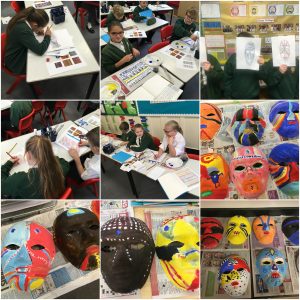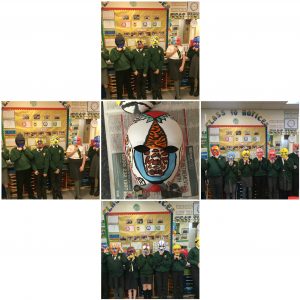 We are Bakers 
The children created their own instructions for a healthy wholemeal alternative to shop bought bread. These were then used to bake wholemeal rolls.